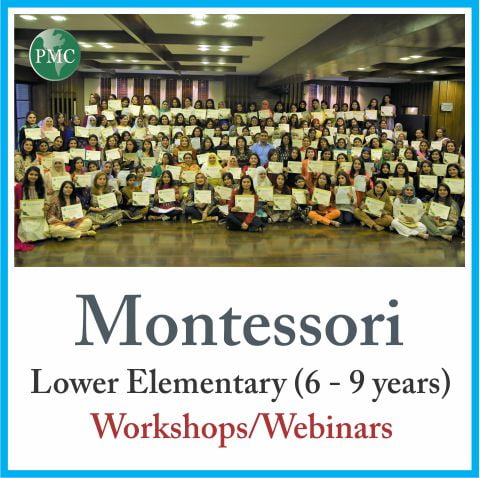 PMC has started registrations for its 30 Days Montessori Lower Elementary (6 – 9 years) Teachers Training International Online Workshops/Webinars to be held in August 2022. Our  Training Webinars (Online Workshops) are regarded as life-changing events. They are excellent for boosting up your professional career as a Montessori teacher, as well as help you greatly in life as a parent and will help later as a grandparent. We highly recommend it to anyone who loves children and wants them to develop into great citizens of the world.
Years of experience and extensive use of technology allow us to cover up the entire Montessori Lower Elementary (6 – 9 years) curriculum. We begin by discussing the fundamentals and the philosophy of Montessori Method. Having covered the basics, we introduce the trainees to each and every material and relevant exercises in all curriculum areas. This is done;
(1) by giving access to exclusive Montessori training videos related to each material.
(2) by offering online practice with Montessori materials.
(3) through live interaction with well-trained Montessori master trainers.
These are webinars (online workshops) like no other. New topics are covered every day along with making new friendships and social connections. The involvement of trainees is so intense that some cannot even hold back their tears on the final day. Check out great reviews from our existing students on our facebook page.
Who Can Participate?
Anyone can participate from anywhere in the world from a mobile device or computer. Highly recommended to school administrators, teachers, trainee teachers, students, and parents can participate.
Venue:
International ( World Wide Web)
Dates:
15 Aug 2022 to 17 Sep 2022
Timings:
02:00 PM to 06:00 PM (Mon-Sat).
Course Content:
We use an international standard training curriculum and superior technical resources. Highly skilled master trainers lead you through excellent sessions and ONLINE PRACTICAL TRAINING with REAL MONTESSORI MATERIALS.
Curriculum includes
Module 1: Introduction to Montessori
Module 2: Setting Up Montessori 6-12 Classroom
Module 3: Advanced Practical Life Exercises
Module 4: Cosmic and Peace Education
Module 5: Language Exercises (Part 1)
Module 6: Language Exercises (Part 2)
Module 7: Mathematics Part 1
Module 8: Mathematics Part 2
Module 9: Exercises of History
Module 10: Matter and Astronomy Exercises
Module 11: Science Experiments
Module 12: Cultural Geography
Module 13: Physical Geography
Module 14: Botany Exercises
Module 15: Zoology Exercises
Module 16: Health Sciences, Art, and Music
Fee:
Rs. 18,000/-
For details or registration:
Contact PMC Toll-Free Helpline: 0800-45555
051-8433333, 051-2613841/ 051-2613888/ 0322-7886666 / 0321-5232661 / 0316-5081430 /0332-5526780 / 0300-8544026-71-72
Email: info@montessori.edu.pk